Here is a hard truth you have to face; Your Search Engine Optimization campaign is not failing because a search engine got it out from its results pages.
Neither is your SEO strategy underperforming because you are suffering from an irrecoverable penalty.
No! Whether you are in charge of your SEO strategy or have hired a professional to help you out, you must always lookout for the following possible causes of SEO failure.
You are Using Outdated SEO Strategies
The SEO strategies that were used many years ago might be irrelevant today. SEO is ever-changing, which is why we must align our SEO strategies with the latest SEO trends.
Your SEO campaigns fail because your webmasters tend to use the same old techniques while expecting different results.
Some of the old SEO tactics that could drive your SEO strategy down the road of failure include using reciprocal links, using flat URL structures, long-tail keywords only, keyword stuffing, using exact match domains, among many others.
Such tactics no longer work, and you must avoid such measures if you want to succeed.
You Have a Poor Website User Experience.
Poor website user experience is also one of the most common reasons why SEO campaigns fail.
User experience plays a critical role in ensuring the success of websites.
According to a 2018 report called Digital Intelligence Briefing, 74% of your web visitors are more likely to visit your website again if it has a good user experience.
You probably wonder what user experience has to do with increasing your ranks in search engine results pages.
To win the attention of search engines such as Google, your web visitors need to love your website.
It is as simple as that. If your site is slowly dropping in ranks, you might consider improving the UX of the website.
For instance, you can improve the site loading speeds, optimize your headlines, use interactive media such as graphics and videos, and improve the general outlook of your website.
Your Site Lacks Adequate Security
Although the responsibility of site security rests in the site owner's hands, Google and other search engines are doing all they can to try and make the internet a safe place.
For instance, they will want to scrap off insecure websites that might compromise the security of websites visitors.
You can do this practically; take your time to search anything on Google and look at the first top results. You will realize that HTTPS websites are dominating the top results pages.
But why HTTPS websites? The answer is simple; HTTPS websites come fitted with SSL certificates, ensuring encrypted communications between website servers and visitors.
Encrypted data is safe from data transfer vulnerabilities such as Man-in-the-middle attacks, eavesdropping among many others.
Google uses the HTTPS factor to break a tie where two or more websites have equaled all other ranking factors.
If you have been ranking lower than your competitors, the reason is that you have not acquired an SSL certificate for your websites.
You should buy an SSL certificate today to improve your SEO strategies.
However, it would help if you were keen to ensure that you only acquire the certificate from a trusted certificate provider like a GeoTrust SSL certificate, RapidSSL certificate, Thawte SSL, DigiCert SSL, Comodo SSL certificate etc.
You are Focusing Too Much on Keywords
Long ago, we would write through a whole page full of specific keywords, and we could see the page rank within no time.
The page will even beat the big brands in the SERPs. The strategy no longer works. If you are still doing it, you should not be surprised when I tell you that it is the reason why your SEO campaign is failing.
It is the big brands that must always emerge as the winners no matter the number of keywords you apply in your content.
If you are focusing on using long-tail keywords stuffed all over in your content, then be warned. You are treading on a very wrong path.
The question that you should be seeking to answer today is what you can do to be like the big brands and not how to outshine the big brands.
It is simple that way. To rank high in the SERPs, you should strive to deliver exceptional content, associate yourself only with the big brands, use storytelling to be as captivating as possible.
You are Using the Wrong Keywords
Still, on keywords, users find it difficult to measure the keywords accurately. However, that should not be the reason why you should not measure the keywords.
Most importantly, you must ensure that you only use the keywords regular website visitors will search for more frequently.
For this reason, before you start working on your marketing campaign, you must ensure that you target keywords whose search volume is consistent with your SEO goals. That way, it can be very easy to jump on top.
You must also regularly revisit your posts to see how the keywords are performing. Underperforming keywords should be rectified as soon as possible.
Wrong Link Building
Yes, you are building links. But how great and effective are your links? You should know that not every link you create will work in favour of your SEO strategies.
Although paying for links or using spammy profile links might look like a great idea, they do not work as perfectly as you might want them.
Some of the link-building strategies that could be the reasons why your SEO strategy fails include the following.
Using link directories
Having the links in your footers
No-Follow links
Having a lot of links from a website with low domain authority
Having your links point to an irrelevant topic
Using Reciprocal links
You are Ignoring the Role of social media in SEO
If you haven't embraced social media as one of your SEO tools yet, you are intentionally ignoring it. You should look no further for the cause of your SEO campaign failure, and the lack of social media has the answers for you.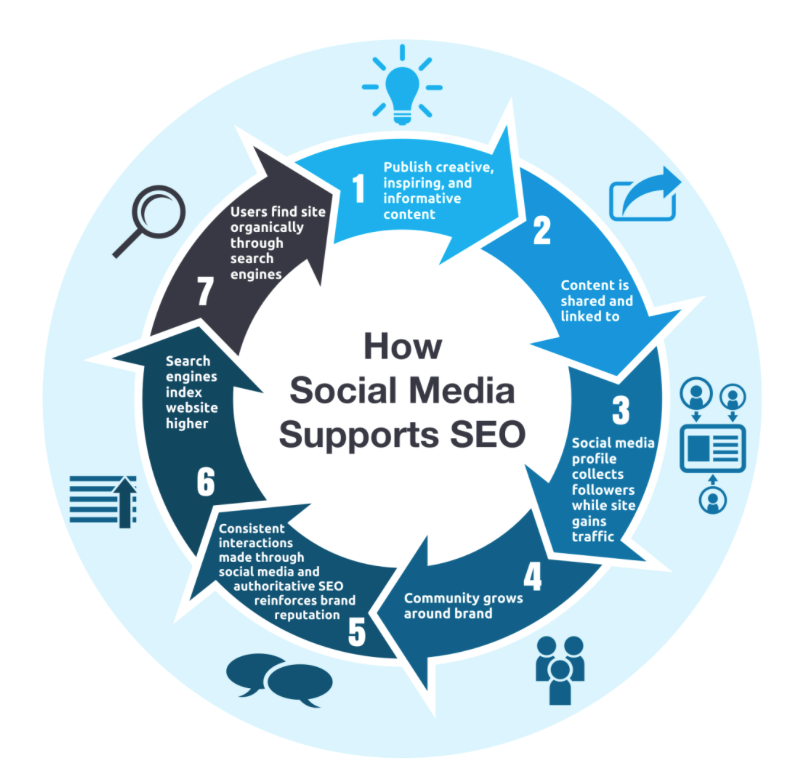 Today, social media shares and relative user authority have added weight to Google ranking algorithms. It means that you have been missing out a lot if you cannot invest in such tools.
A report by Statista shows that Bing has a share of 24% of search traffic, and social media has proved to be the direct ranking factor that influences the traffic.
You are leaving out a lot of traffic by ignoring social media platforms.
Additionally, Social media platforms such as Facebook and Twitter will help improve your brand's search volume.
So, even when people fail to open your social media posts, they might easily remember them and go back to search for them.
You are Too Impatient
Good things usually take time, and so do the SEO strategies. You cannot expect to hit the top of the search engine results pages within a few days or weeks, and you can watch your ranks dwindle at the bottom within the first few weeks or months from the inception of your SEO strategy.
But they will gain traction and jump a few places to the top just when you are about to give up.
There is no specific way to determine when your SEO strategies will pay off.
Patience is, therefore, a virtue you must have. You should not rush to declare your SEO campaign a failure just because things have not worked out within the first few months of your campaign.
Slow Site Speed
Modern website visitors want to have things done as soon as possible.
They are impatient and will leave your website whenever the website takes too long to load.
If you have been wondering why your website has a high bounce rate, perhaps it would help if you looked at it from the speed perspective.
According to Akamai, a 100-millisecond delay in the load speeds will increase the bounce rates and cause the conversion rates to drop by 7%.
I am sure you do not wish for this, and this is why you must put in extra effort to ensure your page speeds operate optimally.
You Have Not Optimized Your Website for Mobile
The number of mobile devices has been increasing more recently, which also explains why we have more than 52% of web traffic originating from mobile devices.
You have been missing out on a lot of traffic if you are yet to optimize your website for mobile.
If you want to have an effective SEO campaign, you must spread out your wings to reach different heights and harness as much traffic as possible.
In Summary
An effective SEO strategy will go a long way in ensuring that your business succeeds.
However, most webmasters make mistakes in crafting and executing the SEO strategy, which makes their SEO campaign fail.
This article has explained ten of the possible causes of SEO failure. You must avoid making such mistakes if you want to rise high in the search engines results pages.